Welcome to our review of the Aqua Bliss Shower Filter Series. In this article, we will compare the four shower SF100 vs. SF220 vs. SF300 vs. SF500 filters by looking at their key differences and similarities.
Equally, we explore the multistage filtration qualities of Aqua Bliss, the benefits of using an Aqua Filter, and Information on Replacement Filters while giving our opinion on various products. Read this Aqua Bliss Shower Filter Review to determine the best model.
Many shower heads may boast of having built-in water filters, however, that is not all that counts. All Aqua Bliss Shower Filters SF100 vs. SF220 vs. SF300 vs. SF500 are stand-alone increasing their incredible capacity to outshine their purpose.
They have a separate multistage filtration system to remove both physical and chemical contaminants. The versatile filter cartridges are well-equipped with sand filter, stainless steel mesh, and micro-porous pp cotton to capture large sediments and calcium sulfite, redox media, and activated carbon for impurity removal.
As stand-alone filters, Aqua Bliss is by far efficient in removing the chemicals chlorine, trihalomethanes, and chloroform. The benefits of using the Aqua Bliss filters are countless ranging from fresher quality bathroom air to durable filters that serve you longest.
Our Top Pick is the SF220 which qualifies among the best shower filters available on the market currently.
Compared to the AB-SF500, the AB-SF220 is at least 45 percent more efficient. Its aesthetics are refreshing as well as its efficiency satisfying to users. Read on to find out more about Aqua Bliss SF220.
---
Aqua Bliss Shower Filter SF100 vs. SF220 vs. SF300 vs. SF500
A COMPARISON TABLE FOR SF100; SF220; SF300; SF500
| | | | | |
| --- | --- | --- | --- | --- |
| Model | AB-SF100 | AB-SF220 | AB-SF300 | AB-SF500 |
| Calcium Sulfite | Effective | Highly Effective | Highly Effective | Extremely Effective |
| Activated Carbon | Effective | Highly Effective | Highly Effective | Extremely Effective |
| Redox Media | Effective | Highly Effective | Extremely Effective | Extremely Effective |
| Microporous Cotton | Effective | Highly Effective | Highly Effective | Extremely Effective |
| Ultrafine Stainless-Steel Mesh | Effective | Highly Effective | Highly Effective | Extremely Effective |
| Prefilter Washers | Effective | Effective | Effective | Effective |
| Replaceable Sediment Pads | X | X | Effective | Effective |
Aqua Bliss Output Revitalizing SF100
Check Price on Amazon
Aqua Bliss SF100 is a proprietary system that purifies water and leaves your skin looking radiant. It contains no chlorine, thus recommended for those with sensitive skin. By combining a number of filtration and revitalizing ingredients into a single multi-stage filter, the sediment filter is not only efficient but it is also harmless to use.
The SF100 has a balanced pH that makes it all the more refreshing.
Aesthetics
Sleek, thanks to its ultimate chrome finish design. It is 3.3" in diameter and 4.7" high. Versatile thanks to its universal compatibility with most shower heads. Can be used with three types of filters that is a handheld shower, fixed shower, and rain shower for the ultimate experience.
Soft and Fresh Water
Are you looking for a revitalizing shower filter that neutralizes tastes and odors, reduces the amount of harmful chemicals, and nourishes your hair with a touch of freshness?
The Aqua Bliss SF100 has a purification technology that employs impurity reduction by 99% with the highest being fluoride removal. The shower filter uses enhanced technology to remove unpleasant tastes and odors.
It is a multi-stage filtration system. It has a 12-stage filtration system divided into three major segments. The filter is just as good at sediment removal as it is at chemical removal and mineral infusion. For well water or hard water, the ultra-fine stainless-steel mesh and micro-porous pp cotton constrain medium-sized sediments from entering the filter.
Calcium sulfite, redox media, and activated carbon reduce chlorine. The filter oxygenates water with its magnetic energy balls. If you have brittle nails or dry hair and you need just a ton of moisture, this is the way to go.
Finally, the mineralized beads, zeolite ceramic beads, ceramic vitamin C, and tourmaline release revitalizing minerals and vitamin C that also nourish your hair and skin.
The Aqua Bliss SF100 also features a built-in flow restrictor that makes it unique from other filters. The flow restrictor allows water to gush through the filter before constraining it at the exit. In essence, the shower filter regulates water pressure and usage resulting in a comforting warm shower experience.
Large Holding Capacity
The Aqua Bliss SF100 is a powerful shower filter with a capacity of 10,000 to 12,000 gallons of water. This translates to six months of continued use of shower water before replacement is needed.
ABC-Easy Installation and Universal Fit
Installing the Aqua Bliss High Output Revitalizing Shower Filter is as easy as it gets. The SF100 filter has standard ½" connections, making it compatible regardless of whether you have a fixed, rain, or handheld shower head. Similarly, it is packaged with very easy-to-install water supply lines.
Embrace radiant, glowing, and nourished skin and hair with our one-pick Aqua Bliss SF100. The filter infuses oxygen and essential minerals to enhance your body's repair. We anticipate that you will enjoy every second of using this shower filter. However, if you don't, you could always send it back and we will refund you fully.
Features
2.5 gallons per minute water flow rate
Universal compatibility with all shower types
Natural filter exclusive of chemicals
Efficient minerals and vitamins infusion
A lifetime expectancy of up to 10,000 gallons
AB-SF100 model
Pros
Environmentally friendly
High-Quality Mineral and Vitamin Infusion
pH Balance
Universal Fit
Easy to Clean and Maintain
Eliminate Unpleasant Tastes and Odors.
Cons
More expensive than other SF series on the market.
AquaBliss Multi-Stage Chrome SF220
Check Price on Amazon
SF220 Shower Filters purify your water with multi-stage filtration and work with any showerhead. It has the longest lasting high output universal shower filter that blocks chlorine and toxin great for sensitive skin.
By combining a number of filtration and revitalizing ingredients into a single multi-stage filter, the sediment filter is not only efficient but it is also harmless to use. Also, the SF100 has a balanced pH that makes it all the more refreshing.
Classy and Functional
The SF220 also features sturdy plastic housing with a chrome finish that adds a touch of flair to your bathroom. It measures 2.9 x 2.6 x 2.4 inches and weighs 0.11 pounds. The SF220 guarantees you high performance as well as clean and fresh water.
Soft and Fresh Water
The SF220's filtration procedure employs sediment removal, impurity removal, and protection layers to achieve the purest water. The filter has been designed to get rid of up to 99.9% percent of bacteria, chlorine, pesticides, and herbicides among other water contaminants. You'll find that with this shower filter in place, your shampoo and soap lather up much easier.
Furthermore, it prevents the growth of mold and algae in your showerhead. This filter has a 7-stage filtration process that combines carbon, calcium sulfite, and KDF-55 to get rid of the contaminants in your shower water.
Additionally, this shower filter removes the chlorine which helps to rejuvenate and revitalize your nails, skin, and hair from the negative effects of showering with chlorinated water.
It contains an extra-fine strainer that holds up to 40% more minerals than regular shower filters. This facilitates chlorine odor removal. It also raises alkalinity of water after filtering the solid debris away. To finalize the efficient filtration process, the filters make use of an automatic rinse feature that prevents mineral buildup within the faucet.
The water will rejuvenate your skin as you relax and enjoy the soothing feel. The SF220 has a high flow rate of 2 GPM to reduce the time spent waiting for shower water.
Holding Capacity and Ease of Maintenance
With its dual-action cartridge design, this filter ensures both cleanness and durability. The manufacturer has designed it to filter up to 12000 gallons of water which translates to seven months of pure and safe shower water for a standard family.
Efficiency
In terms of market performance, Aqua Bliss SF100 surpasses other filters by far. It has a 2.5GPM water flow rate for a blissful shower experience. Furthermore, with its 7-stage filtration technology, Aqua Bliss SF100 guarantees the elimination of a wide range of pollutants.
Plumbing Installations
The SF220 shower model is simple to install. To replace one, simply open the filter, rinse the inside, insert a new mesh and rinse again. It is comforting to know that this filter is universally compatible with other showerheads. The fact that you will not be needing to call a plumber to fix it makes the entire procedure economical.
Features
Simple to install because there are easy-to-follow instructions and no tools required
Comprises high-quality filtration materials such as calcium sulfite, activated carbon, and media redox.
A Universal Connection that makes it a Universal Fit
Has a flow rate of 2.0 gallons per minute
Pros
Ease of installation, no tools required and an included manual
Produces notable healthy skin and soft hair
Durable
Efficient multi-layer filter media
Multi-stage filter fitted with high-quality filtration materials
Universal fit
Cons
Expensive
Does not add any essential minerals or vitamins into the water
Aqua Bliss SF300 Multi-Stage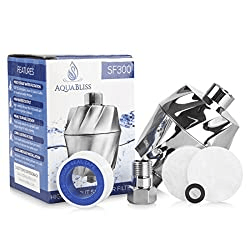 Check Price on Amazon
Aqua Bliss SF300 is a multistage water filter that can be used with both hot water and cold. It has calcium sulfite that facilitates chlorine removal regardless of water temperature.
It guarantees you stronger nails, moisturized hair, and nourished skin. In essence, Aqua Bliss SF300 reduces the negative effects of contaminated water by removing chlorine and chloramines. Get yourself an Aqua Bliss SF300 today.
Filtration and Advanced Technology
Aqua Bliss SF300 uses KDF55 media to effectively reduce chemicals in the water. It is a universal filter that helps reduce most chemicals within your water. By using the Aqua Bliss SF300 is a patented technology that reduces chlorine and other toxic contaminants in your water to 99%. This ensures that you and your family take shower without exposure to harmful chemicals.
Cleanliness and Maintenance
It is a high-performance gadget that guarantees you routine maintenance of your shower head.
Saves on Water and is Efficient
Save up to 30 gallons of water per month with one Aqua Bliss SF300. In its life span, the faucet maintains high water pressure while giving you the experience of a lifetime. Also, the SF300 filters are replaceable after 12 months of continued use. This saves on money and hence serves as an excellent water-saving solution for your home.
To maintain a neutral balance of the water pressure and flow rate, adjust the product system between 3.5 and 6.5 GPM. Also, make use of the high output shower filter technology to accommodate multiple users of the filter at once.
Plumbing Installations
Plumbing the shower fixture is quite easy. The package comprises an adaptor, instruction paper, and a shower head. Follow the instructions within the package to screw the filter into the shower head.
Certifications and Support Systems
The Aqua Bliss SF300 offers a one-year warranty on its entire filtration system.
Features
Multistage filter – 12 stages of filtration
A 12-month warranty.
Pros
Removable Filter
No-leak, state-of-the-art design
Nourishes the skin and hair
Installation and replacement are effortless
Suited for people with skin issues
Easy to follow installation directions
Cons
Too expensive for the gadget
Aqua Bliss SF500 HD HEAVY DUTY High Output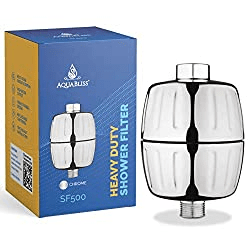 Check Price on Amazon
The Aqua Bliss is x100 better than a standard shower filter. It is a high output filter which removes most harmful materials from your water. In essence, assuring you and your family of toxic-free water.
Filtration and Advanced Technology
The Aqua Bliss SF500 is made such that it maintains long-lasting filtration. It has a comparably large cartridge that improves its functions compared to the earlier models. It consists of a fine redox media to remove contaminants more effectively.
Similarly, it is fitted with an activated carbon filter to remove any present VOCs. The seals are no-leak to guarantee that water is filtered 100 percent. This completes your search if you had been searching for a non-chemical shower filter.
Plumbing Installations
This shower filter comes with a complete set of instructions to make installing the faucet as simple as possible. With its twist-on make, you can enjoy a hassle-free experience of attaching the filter to your shower head. The shower filter adapter assures that this model is a universal fit for all shower heads.
Certifications and Support Systems
Enjoy a pretty you with the patent-pending Aqua Bliss SF500.
Nourished Hair, Radiant Skin, and Stronger Nails
Aqua Bliss SF500 is a heavy-duty shower water filter that targets the leading cause of dandruff, eczema, and dry itchy skin to reverse the negative effects. It restores pH balance to otherwise acidified water. Then transforms weak and brittle nails into harder fingernails and dry hair into moisturized hair.
Easy Plumbing Installation
If you can twist the cap of a bottle, then you can screw in Aqua Bliss as well. The model has an upgraded design that makes it automatically fit into the showerhead and arm.
Features
High Output water filter
Fitted with Advanced Technology
Easy, Effortless installation
Pros
A Certified Shower Filter Replacement
Multi Stage Filter Reduces Chlorine, Dirt, and Contaminants
Neutralize ph imbalance
Easy to install, just screw in
Cons
The Benefits Aqua Bliss Shower Filters Offer
You want a great way to improve the quality of your water? Choose the right shower filter. Perhaps the bigger question is how you would know the right one within the flooded market. Well, in the first instance you would be required to look for the multistage aspect of the filter.
The Aqua Bliss SF series is well fitted with versatile filter elements. As a matter of fact, the bigger benefit of using this model is that they are affordable and simple to use.
Sediment Filtration
The SF series (SF100, SF220, SF300, and SF500) have a high filtration capability rated at .99 microns. Also, thanks to their 3 stages of filtering activity chemical contaminants are also effectively removed. On top of that, they produce less noise, and in even rarer circumstances do they allow for leakage making them topnotch filter products.
Odors and Chemical
Chlorine is usually added to water to prevent your skin from getting some infections. However, chlorine is not always kind on your hair and skin, especially with your shower water. Chlorine can cause dandruff, dry skin, and eczema.
These problems cannot be resolved by any amount of skin product if you keep using chlorinated water. Curb this problem by installing Aqua Bliss shower filters that get rid of chlorine.
The Quality of Water and Bathroom air
Guarantee a purer supply of home water by using Aqua Bliss products. These filters efficiently remove chlorine among other chemicals.
The Durability of the Shower Filter.
The durability of the shower filter is in its construction. Aqua Bliss products boast premium quality materials in their construction. Also, they are incredibly easy to use. Equipped with a patented design, the SF series effectively prevent clogging to allow for ease of maintenance.
FAQs
The difference between the SF100, SF220, SF300 & SF500
The Aqua Bliss SF220 is a heavy-duty shower filter and is first-hand dedicated to chlorine and other harmful contaminants reduction. The SF220 is a heavy-duty shower filter and is first-hand dedicated to chlorine and other harmful contaminants reduction.
Contrarily, the SF300 is M*** Just like SF220, SF500 is a heavy-duty shower filter. However, the SF500 filter contains approximately 25-30% more filter media for efficient filtration. The filters have removable sediment pads, adapters, and leak-free seals all within a similarly sized outer shell. All these rejuvenate and revitalize your skin, hair, and nails.
Do the shower filters reduce the water pressure?
The shower filters are designed to maximize your water flow, so they will not reduce or restrict your water flow.
How often does one need to replace the filter cartridge?
It is recommended to change the cartridge at least every 4-6 months. This will ensure the optimal performance of the shower filter.
Will this work with my existing shower head?
Yes – The shower filters use standard ½" connections, to ensure maximum compatibility with all standard shower heads.
Can TDS meters be used to test the quality of filtered water?
TDS meters are not as helpful in measuring general water quality as they are in gauging water conductivity. Salts and other impurities have positive charges that affect water conductivity. Hence, it is convenient that TDS meters be used to measure these positive charges.
Contrarily, by-products such as chlorine and chloramine which influence water quality are not detectable by the TDS meter seeing as they do not impact the conductivity of water. Instead, it is recommended that one uses customized tests or specified meters like the calorimeter.
Verdict
SF220 is the best deal in the market today. Aqua Bliss appreciates customer feedback, which they use to improve the initial designs. The AB-SF220 boasts a state-of-the-art design as well as full functionality. It also has a 12-month warranty to assure you of its undeniable reliability.
For the longest time, Aqua Bliss has designed and manufactured fully functional filters for various water types. The Aqua Bliss shower filters are heavy duty and incredibly easy to maintain. Furthermore, for efficiency, they are tested for harmful chlorine and chloramine, especially in portable water.
They are screw-in filters hence super easy to install. You will not be needing a screwdriver for this job. Its filters are made of long-lasting media otherwise known as ultra-dense resin. They are made in the USA, with the Aqua Bliss company focused on restoring the natural purity of the water to customers.
Final Word
In a nutshell, Aqua Bliss is the best deal you are ever going to get. Especially if the problem you need to curb is with well water or hard water. The company provides a filtration system for both stand-alone filters and fixed shower heads. The choice is up to you for whichever setup you would wish for in your home. The filters are both efficient and effective making them quite indispensable. Installation is made easy with their screw-in making. Filter maintenance is also effortless once you have any Aqua Bliss product. All these are standard filters that come in various sizes and we gladly help you find the best one on Amazon.
Related post: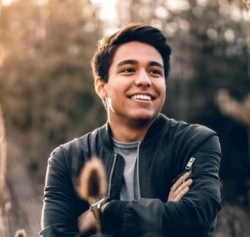 Latest posts by James Smith
(see all)