Best Plug and Play Hot Tub for Cold Climate: Are you looking for ways to get the best spa experience at your home without the need to go to an actual spa? You might consider looking for hot tubs which are among the best option to offer you the ultimate relaxation and massage experience.
After a long tiresome day, we all want to relax and get the best massage that will treat our sore muscles and, a hot tub gives you that from the different features it has.
Hot tubs come in different sizes and prices, and when choosing one, you should also consider the primary considerations such as quality, durability, and effectiveness. Hot tubs offer the best bonding time between friends and family and when holding a get-together at your house it's best to consider having one to create fun and relaxing moments.
Hot tubs can be set up inside and outside the house because of their compactness and some of the hot tubs works best in all-time seasons.
Some hot tubs come with certain features that allow you to use them during cold weather without compromising the ultimate warm soothing experience that you got during summer.
In this article, I will suggest the best hot tubs for cold weather in the market which will guide you when choosing one for your home.
A quick summary;
Best Pick + Editor's
Bestway SaluSpa Miami Inflatable
---
Essential Hot Tubs 14-Jet Newport Hot Tub
---
Best Plug and Play Hot Tub for Cold Climate in 2022
1.Essential Hot Tubs 14-Jet Newport Hot Tub, Seats 3-4, Millstone s
What makes this a good hot tub is a comfort and space-saving option it offers. The Essential Hot Tub is made from quality granite resin that features an insulated material that allows your spa to retain optimum heat during cold weather. Hot Tub Technology
The resin construction makes the hot tub not only lightweight and portable but also durable. However small it may look, this tub can serve up to four members in a tub giving you a therapeutic bonding moment with your friends or family. Additionally, it features hydrotherapeutic 14 stainless steel jets that give you the best relaxing and massaging experience at only a switch of a button.
Talking about simplicity, this tub is plug-and-play whereby you plug into any socket and enjoy your experience without any hustle.
It also comes with a heavy-duty insulated tapered cover with locking clips that allows you to easily cover your tub when not using it and also the cover helps in retaining the heat inside the tub.
What makes this an all-season tub is the all-season stainless steel Balboa heater it comes with to keep you warm during cold weather.
---
2.Coleman SaluSpa Inflatable Hot Tub Spa, Green & White
When choosing a Spa it's advisable to always focus on safety measures, and Coleman does not ignore that, it features a pre_tested pump and pre-tested hot tub and a ground fault circuit interrupter that trips at 6ma to ensure you will not face any electric shock risks. Additionally, the pump is multipurpose. It inflates the spa, heats it, runs filtration, and controls the massage system.
Coleman serves four to six adults with only a soft-touch digital control panel hence making it very easy to use. It gives you the ultimate relaxing massage experience whereby it has air jet bubbles that are released from the bottom of the spa to create a bubbling hot tub environment.
To maintain a clean and healthy environment, it features a connected dispenser that maintains the level of chlorine thus cleaning the spa. Additionally, its inflated walls are made of durable, puncture-resistant, and UV-resistant material to prevent damage and retain its shape even when there are a lot of body weights applied.
Also, it comes with a reinforced cover with safety lock clips that makes it easier to close it up when not in use and retain the heat inside the tub.
---
3.Bestway SaluSpa Miami Inflatable Hot Tub, 4-person Airjet Spa
OPERATE FROM INSIDE THE HOT TUB.
SUPERIOR STRENGTH AND DURABILITY.
SIMPLE SETUP AND MAINTENANCE.
Check Price on Amazon
Bestway is one of the best and most affordable all-season hot tubs on the market. It's made from puncture-resistant tri-tech material that maintains its shape at all times making it very strong and durable. It gives you the ultimate spa experience from the 120 bubble jets that not only massage you but can also treat sore muscles.
From the touch of a soft-touch digital panel, it enables you to control the temperature of the water inside the tub and the flow of jets without the need to exit the tub hence making it the best during cold weather. Also, it features a rapid heating system that can be activated during cold weather to increase your water temperature.
Besides, it comes with an insulated cover with safety clips to maintain its optimum temperature and secure it when not in use. From its size, this tub is designed to fit four persons but can be very comfortable for two to three persons.
The maintenance of this hot tub is close to none and you will require no tools to have it up and running. It comes with a cover that ensures the water temperatures are maintained and keep the water in your pool clean from leaves rain and debris. The lift handles on this hot tub make it easy to carry around ad more portable when deflated.
---
4. Life Smart 4 Person Plug & Play Square Hot Tub Spa
When looking for the best hot tub during the cold season you should probably choose Life Smart. It features 13- high powered jets that massage and soothe your body giving you the ultimate spa experience with just a soft touch of a digital button.
This brand is easy to use whereby you just have to plug and play without extra hustle. Moreover, it can fit up to four people giving you the best bonding time when relaxed.
With an underwater multicolored led light system, you and your family or friends can enjoy the best spa experience from a refreshing outlook.
Furthermore, this brand complies with safety measures in that it comes with a child-safe locking cover with safety clips that retain the temperature of the tub and keeps it secure when not in use. From the puncture-resistant and UV-resistant material, it provides support and durability to the tub.
---
5. Intex 77 in PureSpa Portable Bubble Massage Spa Set
Seating capacity: 4 people.
Pure Spa provides simple maintenance.
The built in hard water treatment system.
Check Price on Amazon
Intex is the best hot tub for cold weather that serves up to four people comfortably. With just a soft touch of the digital panel, it activates 120 super powerful bubble jets that give you the best therapeutic massage experience at your relaxation and also control the temperature of your tub.
Besides, it gives you the best comfort ever from the padded floor, padded walls, and built-in massage jets. Also, it features a reinforced cover with locking clips that maintain the tub at its optimum temperature and keeps it secure when not using it.
Moreover, to make your work easier, it comes with an inflation hose for easy inflation and two handles that make it easy to move.
Another stellar feature is the in-built hard water system that makes the water gentle on the skin for the best experience and makes it easy to maintain the tub. Moreover, its puncture-resistant walls make it sturdy and easy to maintain its shape for a long time hence providing support and durability.
---
6. Best way SaluSpa Helsinki Air Jet Inflatable Hot Tub
Chemical kit includes.
The bundle includes Bestway SaluSpa.
Relax at the touch of a button.
Check Price on Amazon
Why you should go for this hot tub because it's an all-season tub with a stylish faux wood look. It features a hard water system that softens the water making it gentle on your skin hence giving you a soothing experience and also making it easier to maintain the tub.
Also, this brand enables one to operate from inside the tub by featuring a soft-touch digital panel that lets you control the water temperature and flow of 83 air jets at your comfort and preference.
The brand is made from puncture-resistant tri-tech materials that maintain the shape of the tub in all-weather seasons and different bodyweight applied thus making it sturdy and durable. Moreover, it comes with an insulated cover-up with safety clips that maintain its optimum temperature and keeps it secure when not in use.
---
7. Intex Swim Centre Inflatable 71 by 26 Family Lounge Pool
Are you looking for ways you and your kids can have fun during all-weather seasons? If you are, you should consider purchasing this pool for your home perfect for splashing and playing.
It's made from transparent plastic that holds up 156 gallons of water to give your kids the best swimming experience as you sit on the comfortable bench provided from the other side of the pool.
Its compact size makes it easier for both indoor and outdoor experiences. Furthermore, it features two air chambers, each with a combo valve included that makes it quick and easy to inflate and deflate the tub. To make it better is that it comes with a repair patch and drain tube.
---
8
.Intex Swim Centre Family Lounge Inflatable Pool 90 by 26
What makes this brand the best pool for indoor and outdoor experiences is the stellar features it comes with. It features four built-in 10- gauge seats with a backrest where your family can enjoy the best relaxing experience and comfort as you watch your kids have fun. This pool is quite big that it can fit both parents and a kid of 3+ creating the best bonding time.
Moreover, this brand features transparent side walls and two pool drink holders whereby you and your partner can relax in the pool as you take your favorite drinks. Also, it comes with a repair patch that makes it easy when it needs to be repaired.
---
9. Intex Crystal Blue Inflatable Pool, 45 by 10-

45 x 10″
nflated Dimensions: 45″ x 10″ (114cm x 25cm.
Escape the summer heat with the Intex.
At 6.5in water depth.
Check Price on Amazon
Are you looking for a pool for one or two children? Then this is the best pool that can serve your kids during the summer and winter.
It's constructed from plastic with a 6.5 water depth that can allow kids of 2 years and older to enjoy the best swimming experience. It's the most ideal for kids' entertainment in the backyard of your home offering them the utmost fun. This brand comes with a repair patch that makes it easier to repair when needed.
---
How to Buy a Hot Tub for Your Family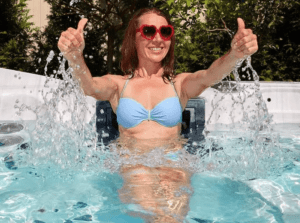 When looking for hot tubs look at them in a more practical way. Hot tubs need a structurally sound and level flat area. You'll need a control panel at least one that has a 50- amp breaker that has the capacity to run 240 volts of energy.
There are many other qualities that will enable you to make the best buy hot tub. The process is fairly simple and by following on a series of information revealing questions, you will be able to get the best hot tub. Such questions would be:
How would it feel if you had your friends and family with you?
Is the depth of the spa suitable for your needs given the height and build of the main bathers?
Are the jets providing good quality massage and how adjustable are they for both power and massage type?
What warranty cover is included with the hot tub?
Are you a WhatSpa approved retailer?
How much will it cost to run this hot tub model?
Here s, a quick summary of what to look into whenever you are looking for a hot tub:
Hot tub size
Seating style (lounge seat or all-seater)
Water depth and seating depth variety
How it feels (the hydrotherapy massage delivered by the hot tub jets)
Several seats – how many people will be using the hot tub at the same time regularly?
Number of jets
Number of pumps
Filtration system
Add-on including lighting, audio systems, app integration, and warranty details
Let's explore more…
What to consider when buying a hot tub?
1. Available space
The space available in your home and also the location will determine how big or small and what type of tub you should get. If you love the outdoors and have a spacious yard or porch you might want to consider having an outdoor spa or hot tub.
Square hot tubs usually fall between six and eight feet in length but there are many other hot tubs for sale in the market that come in different shapes, designs, colors, and sizes. Let's take a look at four basic types of hot tubs.
Above-ground acrylic hot tubs
These are said to be portable and usually have a fiberglass or foam under-structure, plus a wood or synthetic cabinet.
Moving an acrylic hot tub is easier said than done. They need a firm foundation like a concrete slab. One of these might also need an electric outlet for the heater.
They will likely have a longer life span if placed in a shaded area because the sun seems to cause damage to the acrylic surface.
Inflatable and Portable Hot Tubs
These truly are portable compared to other types, but more portable can also mean less durable. These hot tubs are geared toward the family or individual who wants a Jacuzzi, but cannot afford the price of a typical spa.
As with other types, inflatable tubs do have their own pros and cons. The cheaper cost can be considered a pro and so can the portability of the product. If you move from one house to another, you can pack it and take it with you.
A con to think about is that the inflatable tub is designed from vinyl, nylon, or plastic – not the strongest materials. Another con is the blower system which fails to keep the water temperature where you set it.
Wooden Hot Tubs
First of all, better and more durable than an inflatable tub and costs less on average than acrylic spas. They are typically made from cedar, teak, or redwood and they are above-ground spas. These hot tubs offer a simple design and can be slightly deeper than other hot tubs. They also provide a woodsy scent which is a plus.
Wooden Jacuzzis also must have a firm foundation, but it isn't a must electric outlet if you get one that is heated by gas or wood. Some people may consider it a con that wooden tubs generally do not come with powerful jets and they also need more maintenance than those other spas. The wood is only as good as the care it's given.
Periodically, the spa must be drained and allowed to dry completely so that it can be re-stained and sealed.
In-ground spas
These are definitely the most expensive spas available. The installation alone is expensive and requires digging and plumbing. These hot tubs won't be moved once installed.
Of course one of these has seating accommodations. These are the most expensive when it comes to upkeep, but most owners find them worth the effort.
They heat better, and faster, and offer visual appeal. All of these features are sure to draw the attention of a potential home buyer.
Outdoor tubs are generally made with sturdy and durable materials that can withstand natural elements and changing weather. It is available in different sizes which are perfect for couples and big groups as well.
On the other hand, indoor tubs are more fitting for people who want privacy and have enough space indoors. Indoor tubs are also heavy so it is recommended that you install a sturdy platform that can support its weight.
2. Choose a reputable brand
Do you know that old story about the snake oil salesman? Well, a really good hot tub salesman will "Qualify" their customers. . Choosing a dealer is just as important as choosing the product itself. Take some time to research which brand is available in your local area Do your homework and pick a business with a solid reputation and one that will make owing a joy, not a hassle.
3. Think Out Of The Box.
Looks can be deceiving. It's advisable to take the time to scout around in a "wet test" to find the best buy. There are off-brand or stripped-down versions of brand-name hot tubs at lower prices with limited insulation and noisy pumps. . Chances are that the low price you scored will end up costing you in the long run. You will not want to throw away your hard-earned into something not worth it.
4. Consider the Level of Comfort
Our bodies are only about one-tenth of their weight when submerged in water. The muscles and ligaments can relax because they do not need to support that weight and after a hard day's work a hot tub can prove especially relaxing for soothing those worn-out muscles and stimulating blood circulation throughout your body.
So whenever you are trying out the hot tub, consider how comfortable you are. Also, choose a color that best relaxes your eyes. As per the design, some hot tubs are made to contour to the form of a body. If you plan on spending quite a bit of time in the tub you'll want to be sure that you are comfortable.
5. Remember Add-Ons Can Add Up.
When choosing, analyze the total cost, including delivery, energy costs, water care products, and covers. Some hot tubs have T.V., stereos, saltwater generators, and some really cool lighting packages. And of course let's not forget, you can get any kind of jet known to mankind at a spa that will give you that perfect massage that you're looking for.
Do you want one with fixed or interchangeable jets for specific body area massages or an entire body water workout? Is your hot tub for therapeutic purposes or just for fun relaxation in the company of family or friends? Do care for a music system or the soothing sound of waves? Perhaps you want a portable spa?
This will nonetheless affect the price tag of the hot tub besides the size of the tub. Add-up costs such as Leveling, on-site installation, instruction, and operation shouldn't incur such charges.
6. Cleaning And Maintenance
If you want easy to maintain and clean tubs you can go for plastic tubs or ceramics. Wood tubs on the other hand fit, those who want a traditional warm bath combined with easy cleaning and efficiency.
7. Warranty
Warranties are very important when it comes to purchasing a hot tub. A warranty can go a long way in saving you money throughout the life of your tub.
Some products offer 10 years warranty for the tub shell, 7 years for the tub surfaces, and a 5-year warranty for the equipment, heating system, and plumbing parts.
The warranties are your assurances that the hot tub can withstand years of use. Without an effective warranty, you could end up having to pay for unnecessary and sudden expenses on your own.
8. Other Specifications
Check out the tub's dimensions, spa shell construction, water capacity, weight and seating capacity, seating style, number and types of jets, insulation, pumps, heat controls, water lighting, and water filtration.
Though both of these types may look the same on the outside, they are very different when it comes to how they run and use energy. You also be hit with higher energy bills.
Insufficient insulation causes the consumption of more energy because more energy has to be used to maintain heat at a constant.
Most hot tubs have sanitation features. They have water filters (which you will need to clean or replace from time to time). There also are chemicals that you will need to put in the water to make sure that it is clean and bacteria-free.
To wrap things up, Be a smart shopper and you can soak up the benefits for years to come.
Conclusion
Hot tubs provide the greatest massage and relaxing experience by treating sore muscles from powerful bubble jets after a long tiresome day. They also create entertainment and bonding time for family and friends during the summer and winter seasons.
Hot tubs should be able to serve people at all seasons of the year by providing essential services and also making them easier and possible to maintain. Therefore due to advanced technology, all seasons hot tubs were introduced that can work effectively during a cold-weather season. These hot tubs have certain unique features such as a heater, insulated walls, and an insulated cover that maintains the optimum heat inside the tub, making them ideal for winter.
When choosing a hot tub, it's always advisable not to only look for the most affordable one but also look for the durable and most effective that will serve you at a prolonged period and all-weather seasons. Therefore, it's best to deep further into our pockets and buy the quality, durable, and most effective hot tubs in the market. Also, it's good to remember that at times we may not always be there to watch our kids, so it's best to purchase a hot tub that complies with product safety measures that will always protect our kids when we are not around.
When buying hot tubs for yourself, it's also good to buy a pool that you and your kids can have fun to create a family bonding time. A family pool is the best as compared to a kids' pool since you can all have fun whereby the kids splash and play with water as you watch them inside the pool from the comfortable seats with backrest provided.
However, if you are going for the most affordable pool you can purchase a kids-only pool that will also create fun and entertainment for your kids. Therefore, the main reason for purchasing hot tubs and a pool is to create a relaxing experience and entertainment once in a while. So it's best to go for all seasons tubs that will give you the utmost massage and soothing experience for as long time as possible and pools that create the best family bonding time.
What temperature is too cold for a hot tub?
A hot tub can also be used during cold weather to give you the warmth and relaxation you desire. So many of us want to relax in a hot tub in all seasons and before you purchase a hot tub, this question may be part of your worries.
According to recommendations by the consumer product safety commission, the water inside the tub should not surpass 104 degrees Fahrenheit but be at a level of 100 degrees Fahrenheit. During a cold season, it's always advisable to turn the temperature down to 100 degrees Fahrenheit and below that may be quite a bit dangerous.
Do inflatable hot tubs work in cold weather?
Many people prefer buying an inflatable hot tub instead of building an actual pool that may take up as much space as possible. Some of us purchase inflatable hot tubs to enjoy during the summer, and also they still want to use them during the cold season to provide warmth and relaxation.
Therefore we may find ourselves asking this question to purchase an all-season hot tub that is quite affordable. Inflatable hot tubs work in the cold weather season whereby they feature insulated material that maintains the optimum temperature of the tub. Also, some of these hot tubs come with a reinforced cover that maintains the temperature of the tub, making them ideal for cold weather.
What is the lowest temperature you can keep in a hot tub?
People tend to ask this question to maintain the longevity of their hot tub. A hot tub should always be kept at 104 degrees Fahrenheit during cold weather and the lowest temperature one should never reach is below 90 degrees Fahrenheit. It is because the lowest temperature can freeze up your tub and crack the tub, thus reducing its longevity.
Can you leave a hot tub outside in the winter?
When you are not using the hot tub, you can leave it in the winter some prefer winterizing it, while some prefer putting water in the hot tub during cold months.
Those who prefer winterizing choose this option because of the long time they won't be using it hence they do drain all the water from the tub and leave it empty which might not be the best idea since the tub plumbing lines may shrink and results in leaks when inflated.
Also, those who prefer to leave water in the tub during the cold weather think this is the best solution when not using the tub for a short period like less than a month.
How do I keep my hot tub from freezing in the winter?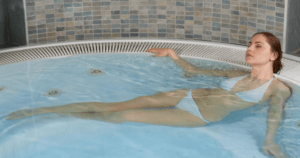 People tend to ask this question when they are worried about leaving their hot tub outside in the winter, so they tend to search for ways to prevent their hot tub from freezing to enhance its longevity. It can be done by regularly checking your water temperature with a thermostat to monitor the water temperature level.
When the water temperature drops below the recommended temperature heat level you can activate the water heater if your hot tub doesn't have this feature to avoid your pipe, pump, and filter from being frozen. Also, the tub temperature can be maintained by coming up with an insulated cover that prevents heat loss hence preventing your tub from freezing in the winter.
Can sitting in a hot tub help you lose weight?
Many people in this world want to lose weight without the need of working out intensively because it's tiresome. If you have heard about hot tub assistance in the loss of body weight then I should confirm that it's not a myth. A hot tub helps you to relax, and when relaxed, you are stress-free. Some people when under stress they tend to crave food as a coping stress mechanism hence gaining a lot of weight.
Also, almost everyone experiences a shortage of sleep when stressed, and this negatively affects weight loss since it impacts hormone levels and body systems. Best Hot Tubs For Cold Weather Enjoyable Therefore hot tub gives you the utmost relaxation period that helps you to lose weight by releasing stress. Though it may not be a lot of weight it plays a part.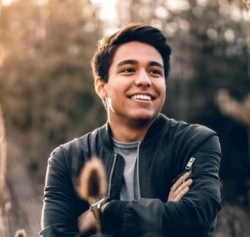 Latest posts by James Smith
(see all)