When it comes to buying above ground pools a lot of questions come into play such as what shape of the pool should I buy? Oval or round, what depth, size, and frame style should I be looking for before making that decision of buying?
When it comes to buying above ground pool, there is a whole package involved all concerning your pool needs and wants.
To guide you in making the best purchase of above-ground pools, check out these seven carefully researched above ground pool buying tips to consider that are in your best interest.
Above Ground Pools Buying Tips – Buying Tips to Consider
Elite 20ft x 48in Above Ground Frame Swimming Pool
---
Intex 12ft X 30in Easy Set Pool Set
---
10 Foot x 30 Inch Above Ground Pool
---
Step 1: Choosing a vendor
The first important step whenever you go for an Above ground pool is to go to a reputable seller to avoid investing in a sub-par material that could cost you a lot in the long run in future unnecessary repairs.
Step 2: Selecting a Pool
When selecting the pool, there are a lot of things that need consideration. Such factors include the shape, depth, size, and frame style of your pool.
Let's take a closer look at these top four considerations.
Most above ground pools come as either round or oval. Most buyers tend to go for oval shapes because they look bigger than round shapes.
Regardless, depending on the size of your backyard, the quality of the pool liner, or the aesthetics of the pool, you can decide to go for either a round or oval pool whichever suits you the most.
Considering what fun and leisure activity you want to do you have a pool of selection to choose from. Above ground, pools are available in 48 inches, 52 inches, 54 inches, or 54 inches.
A 48-inch pool intended for lap swimming and small children while 54 inches pools are most suitable for water aerobics because they are dipper and carry more gallons of water.
Size
Measure the size of your backyard to get a better picture of how much space your pool will occupy. Mark your measurement with paint for sensible visuals of what proportion of space your pool will occupy.
 Frame Style
When choosing the frame style for your pool select the ones that tend to be thicker and more sturdy, to support the top ledges, uprights, bottom rails, or plates.
Above ground, pools are typically made of steel, resin, aluminum, or a hybrid of the two.
Steel:
Steel is the least expensive and heaviest of these materials. It has increased flexibility in design and is the least likely to dent and pit. Plus it also has some hygienic qualities.
Although technically steel is rust-resistant, it can corrode and oxidize over time when exposed to water and elements.
Resin:
The major advantage of resin over steel is that it doesn't corrode or oxidize despite being costly. It will also not get hot in the sun, unlike a steel pool.
For the most part, the resin is used as one component of an above ground pool, but in some cases, it may be used for the entire pool.
Hybrid:
Go for a hybrid structure pool because it is a combination of both worlds making a much stronger and more durable pool.
A hybrid above ground pool is designed in such a way that the parts exposed to water are made from resin while steel is used for those parts that provide the most support.
A quality pool frame is a must-have for your above ground pool, so invest in this item.
Step 3- Selecting a Liner
Among the things to consider before purchasing the pool is the aesthetics of the pool. The most important concept of a pool liner is that it protects the floor and walls extending the life of your pool besides holding the water.
There are 4 types of liners; overlap, beaded, j hook/ uni-bead, and expandable. Let's have a quick overview of each one of them.
Overlap
An overlap liner is one that attaches to the pool wall with coping strips while the excess hangs over the edge of your pool.
Beaded
Beaded liners are designed with a thick bead of vinyl at the top of the liner where the bead receiver can feed beads into it.
J-Hook/ Unibead
J-hook liners are characterized by having a thick piece of vinyl at the top that is shaped like a "U" which is made to hook to the top of the wall as the rest of the liner hangs down.
With the uni-bead style, it has a square or triangular piece of vinyl under it which acts either as a J-hook or a beaded liner.
Expandable
If you intend to dig a deep end in your pool, then you can consider an expandable liner because it is designed to expand to certain lengths or depths. They are precisely designed for a 48″ or a 52″ wall and can expand up to 72″.
Step 4 – Choosing a Pump and Filter System
Matching up the pumps and filters is an important step because it's considered the heart of the pool. So it's crucial to have information on the best pump and filter combo for your pool.
The pump is what keeps the water inside your pool circulating because it pulls through and backs out water through the filter. This constant process enables your pool water to move rather than remain stagnant. Don't go with a filter that's too small for your pool's size and usage requirements.
There are three different available types of filters that you can choose from which are Sand, Cartridge, or Diatomaceous Earth (DE).
Let's take a look at each one of them;
Sand Filter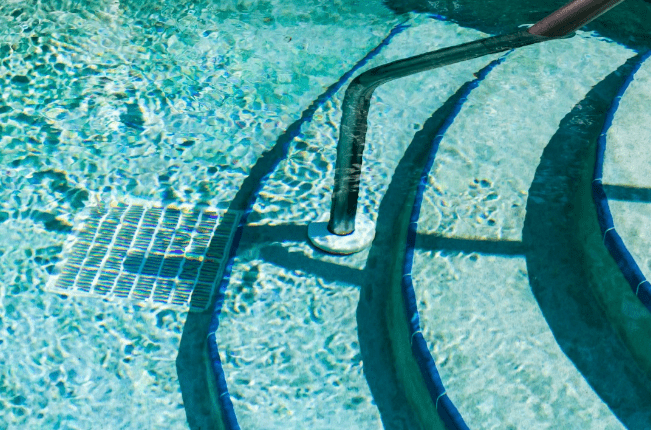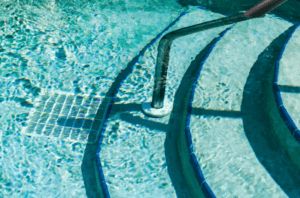 Sand filters are the most affordable option of the three, but it is also the one that requires a lot of maintenance. They are the most traditional style of filtering your pool.
Though they are affordable, we recommend you get the correct kind of sand for your filter. It's better to use sand designed specifically for Above ground pool filters, like clean dry silica sand.
To clean the filter you have to backwash your filter which is running it in reverse and dumping the wastewater. This is a simple process that can be done once in a while depending on the condition of the pool.
Cartridge Filters
Cartridge filter elements have a similar working principle of water filters i.e. Zen water filters or Pur water filters. They have a larger available area to filter than sand filters capture debris from the circulating water though they are more expensive.
Cartridge filters put less pressure on the pump compared to sand filters and as a result, you end up with better flow rates.
The best part of using a cartridge filter is that they don't have a multiport valve unlike sand filters and DE. To clean the filter, you simply remove the cartridges carefully from the tank and hose them down with a hose.
Although a very handy tool, over time it can cause leaking and pressure issues.
D.E. Filter
D.E. filters offer the best filtering option of the two filtration processes. It Utilizes grids located inside the filter tank that are coated with D.E. powder which can filter particles as small as 5-10 microns.
Although D.E. filters are great at filtering debris, the maintenance costs to keep your unit working are maintenance is greater than sand and cartridge filters. They are also more expensive.
Step 5- Pool Sanitation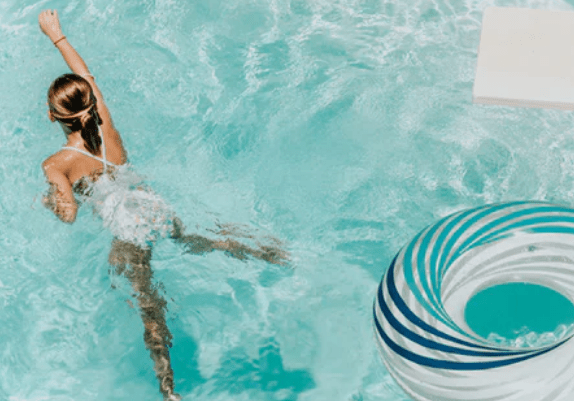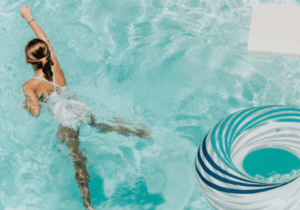 Pool sanitation is meant to ensure the healthy condition of the pool to maintain visual clarity and cleanliness. The importance of sanitizing the pool is to kill bacteria with other contaminants and to prevent the growth of algae on the pool liner
There are different kinds of pool sanitizers such as Chlorine releasing compounds i.e. liquid bleach, mineral sanitizers, or salt.
Chlorine
Chlorine tablet is the most common and convenient primary sanitizer for pools. It has the capability of destroying and deactivating a wide range of potentially dangerous bacteria and viruses in the pool.
Using a chlorinator, dissolve the chlorine tablet in the pool water. Chlorine tablets come in one and three-inch sizes and are used together with a chlorine feeder or floater.
Minerals sanitizers
Besides chlorine, mineral sanitizers are also common which are minerals, metals, or elements from the natural environment.
Minerals are meant for natural water cleaning agents that don't have the harsh chemicals that are associated with synthetic chemicals.
The minerals are crafted to replenish themselves for added protection against bacteria, also and to keep your pool's pH balanced by acting as a neutralizer.
With minerals, chlorine use is reduced to 50% over standard water treatment programs. This is a very convenient way of reducing chlorine use.
Salt
You can use salt pellets in your as a sanitizer depending on the size of the pool and the ppm of the salt to use. This is a simple and natural way of sanitizing the pool.
Adding 2500 to 4000 ppm will work in making the pool clean and healthy. Remember to Test the water before and after adding salt pellets.
Step 6- Pool Ladders
If you have children, it might be necessary to add ladders as part of your accessories because most pools do not come with ladders or pool entry systems. They are typically purchased as an add-on item. The A-frame pool ladder is the most ideal ladder to consider.
Step 7 – Installation
Hire a reputable contractor to install your Above ground pool, making sure he is licensed and experienced in your type of pool and system. Avoid the use of beach sand as a base for your Above ground pool, due to the fact that it can erode over time. above ground pool tricks
Rather, use stone dust, which, like cement, packs down into a hard base to provide your pool with a superior foundation that will see you through many seasons
Conclusion
Before buying, make sure you confirm all the items you absolutely need for your pool.
Related Post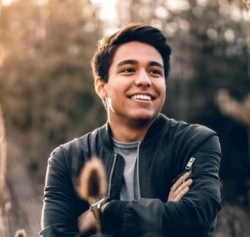 Latest posts by James Smith
(see all)